*The items found in this gift guide have been gifted, some links are affiliates.
I can't believe how quickly Christmas has come around and if you're wondering what would make great Christmas gifts for a foodie, here are some ideas for you.
Masha – Hand Blender 3-in-1 Set Multi Tool – Blends, Purees and Whisks
This is a masher with a huge difference, this is actually a 3-in-1 hand blender that not only blends but purees, mashes and even whisks. This is an all in one tool that is absolutely ideal to have in the kitchen. This handy little gadget would make the perfect addition to the kitchen, you can get your own one from Amazon, it is £37.95 and in my opinion, it's worth so much more.
The Masha will make the smooth, lump-free mashed potato, beautiful pureed food for babies, as well as whisk up egg whites for a beautiful lemon meringue pie. This has to be on the Christmas list for this year, I know it is certainly on mine.
---
Opies – Apricot with Jim Bean and Mixed Berries with Prosecco
Opies has been a family favourite for as long as I can remember, my grandmother and my mother always have some Opies jars over Christmas, whether that is a jar of cocktail cherries, silverskin onions or olives. Well, Opies do so much more than just those, they have expanded out into other areas and you can now get some of these little beauties.
They now have these two amazing luxury fruits, Apricots with Jim Bean (whiskey) and Mixed Berries with Prosecco, both are delicious in cakes, crumbles, pies or even in a bowl with some whipped cream. If you want a treat for Christmas, these have to be it. You can get these from Tescos, Lakeland, Ocado and some independent stores. Go check them out and see what else is available in the range.
---
VASO Glass Straws
We all hate waste, I think every shop, takeaway and bar in the Uk has removed plastics straws from there businesses, they have now replaced them with the worst invention in the world and that's paper straws. I hate paper straws so much, I have been looking for an alternative that I would be happy with.
Well now I can "Save the Turtles", but without having to be a VSCO girl. VASO has these fantastic glass straws and they come in 3 different sizes, one is short, medium and long, they are perfect, reusable and safe to drink from, if like me you also hate using a metal straw because of the tinny taste, glass straws are the solution. Perfect for home and travelling, you need to get yourself some. Perfect little Christmas present for a foodie. You can get a pack of these straws on Amazon for only £12.99.
---
Melitta Porcelain Coffee Filter 1×4 & Porcelain Jug
Melitta have some fantastic office machines and filter coffee equipment, this Porcelain Coffee Filter 1×4 & Porcelain Jug does make the perfect cup of coffee. It is very simple to use, place a filter paper into the top, add your prefered ground coffee, pour over hot water and leave to filter through into the jug. You end up with a perfect cup of coffee with a wonder crema on the top of your coffee.
If you like decent quality coffee that is freshly hand-brewed, this is it. Most people won't know that this type of brewing coffee was invented by Melitta's founder Melitta Bentz in 1908, back then this was the best way to brew coffee and that process has not changed. You can get this porcelain set in 4 colours including blue, pink, grey and yellow. This is a wonderful Christmas gift idea for the foodie or coffee lover in your life. You can buy Melitta coffee products directly from their website.
---
Meater+
Like any foodie, you will want to make sure that you're food is always cooked properly, if you're also into technology and gadgets I have the perfect hybrid, Meater+ is the perfect cooking gadget. All you need is your smartphone. The Meater+ is a meat thermometer that has a 50-metre long wireless reach, meaning you're not trapped in the kitchen, it connects to your phone via Bluetooth and Wifi.
You can always make sure that you cook your steak perfectly by using the Meater+. Now the Meater+ is on the higher end of the price scale and the most expensive gift in the gift guide, however, it is something that you can use for a long time and will always do you right in the kitchen. You can get it from Amazon and it comes in at £109. If you really want to treat your foodie, consider getting one of these.
---
OGGS Mince Pies
At Christmas, who doesn't love a good mince pie? I always find it hard to get the best mince pies, I find most have crap fillings or overdo it with alcohol, I have tried with non-traditional fillings such as salted caramel and think these are better. However, when you think of a traditional mince pie, you want a pie that is packed with mincemeat, tasty and with a great pastry. Not too much to ask is it? Well, I think it is difficult. I do think that I have a solution.
OGGS Mince Pies are it, they are delicious, packed full of mincemeat, flavour and have a great pastry. One thing I didn't realise, especially when I have tried these, they are suitable for vegans!! It was a vegan mince pie that was better than any others that I have tried. They are hand made, so if you want them, get them ordered or bought quickly, oh and double up as I know you will eat these before you need to. You can get them from Sainsbury's or directly from there website, please check them out. They cost £2.50 for a pack of 4, worth every penny.
---
FAIR Café Liqueur
Now I have tried some FAIR products before, they suggested that I try their Café liqueur, this is perfect over ice or as any foodie will think, would also be great in a recipe. So before I get into what FAIR Café Liqueur is like, I want to tell you why I like it so much. I love FAIR products firstly because they are Fairtrade, I think Fairtrade is very important and where possible, I like to have and use Fairtrade products. Secondly, you do get a very high-quality product for your money. If you think that this is going to be expensive, you will be pleased to know that this is not the case, you can get it from Amazon for £22.19, why not treat a special foodie in your life with a bottle of this.
So the FAIR Café Liqueur is a lovely freshly roasted coffee full-bodied and rich flavour, makes it perfect to be served over ice or included in an adults coffee and walnut cake. I'm actually running a competition for one of my wonderful readers to win their own bottle of this, just in time for Christmas, check out the competition here.
---
Gastrolieve+
Christmas is a time to eat, drink and be merry, what it is not for being bloated or feeling crap with the food and drink that you consume. I now have a solution that doesn't require you to stop eating or drinking over Christmas, I would like to say you should do this in moderation, however, Gastrolieve+ is a great way to enjoy the festive season.
If you have never heard of Gastrolieve+ before, it is a tablet that helps support digestion and helps contribute to a normal functional gut. The formulation has shown that it can help if you suffer from gastric discomfort, heartburn, bloating and other digestion issues. These are better to have at home over the Christmas period, you can get these from Amazon, go and check them out and consider having these in to help you as and when you need them.
As an extra, I'm running a competition for you to win a pack yourself, head on over to the competition here.
---
From Bean to Bar Book
Who doesn't love a good book over Christmas, instead of having something boring to read or giving a foodie another recipe book, this book From Bean to Bar, is all about chocolate, white, milk and dark chocolate, the flavours, the textures, something to tempt you and leave you salivating.
Chocolate is making waves in the artisan section in the UK and this book helps you understand where in the country is making the best chocolate bar, is it in the northern parts of Scotland or on the shores of the south coast?
This book takes you off track and away from the mainstream and to the artisan chocolate makers who make from there premises, whether that is a shed or a commercial unit, wherever they make it, this will take you to some of the best chocolate makers the UK has to offer. This book is available from Amazon, so why not treat the foodie you know and love to this little gem.
---
Get More Vits Water
Get More Vits is a little left-field here, you may be thinking why am I talking to you about water, well this is not just any normal water, this is water with a difference, this is water that is packed full of vitamins, these are so much better for you than just a normal bottle of water or even a bottle of cola.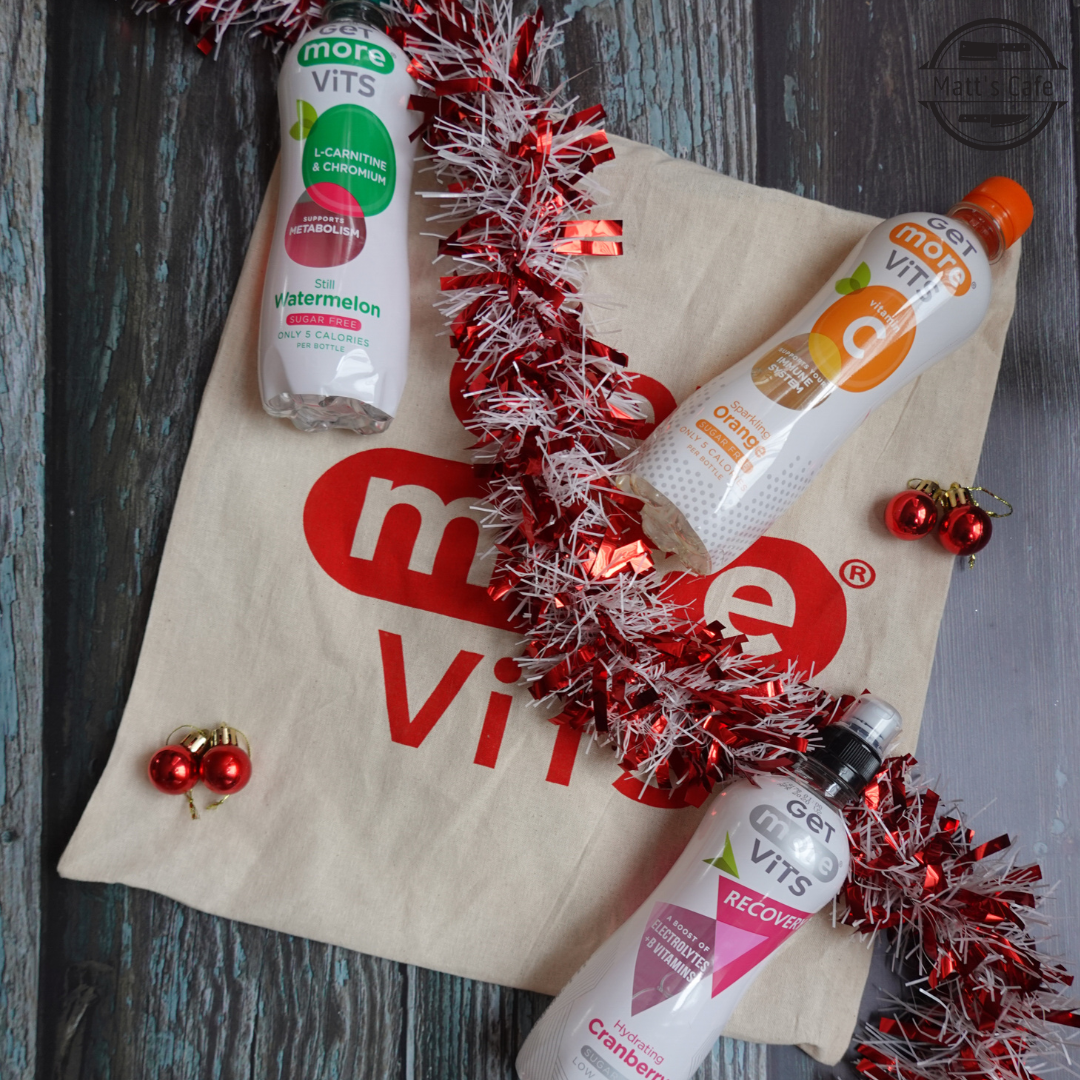 Get More Vits can be bought from Amazon, you can by them in packs of 12, they have a few different flavours available and even sugar-free, oh they also have a kids version as well, so you know you can give your kids water that is actually good for them.
---
Loch Fyne Salmon
Christmas is a time to treat yourself and get some really delicious food to treat yourself over the festive season. Loch Fyne is known for having the best fish produce in their restaurants and online, this Salmon Fillet is no different. You can buy it directly from their website, it comes in a fresh box, so no need to worry.
You know you are getting something special with Loch Fyne's Kinglas Salmon Fillet when you know that the salmon has been cured with brown sugar and sea salt, then smoked gently smoked over oak shavings. `the oak shavings actually come from old whisky casks, so you know that there are years of wonderful flavour and texture. So if you want to treat yourself this Christmas, do it with this, you can buy this directly from Loch Fyne from there shop.
---
Melitta Aromaboy Coffee Machine
Coffee is a great way to start the day, but it can be a pain to make fresh coffee when most coffee machines make more than what is needed. That is until now. Melitta has a great looking little coffee machine called the Aromaboy. The Aromaboy comes in 3 colours, white, black and retro beige-brown, retro is my favourite for sure, this also goes hand in hand with Melitta's anniversary.
The Aromaboy makes the perfect 2 cups of coffee, perfect way to start your day or to just make enough coffee during the day when you need it. Another benefit of the machine is that it is small, compact and will fit every kitchen and office. Go and check out this and many other coffee machines that Melitta has to off here.
Sous Chef Fresh Pasta Cooking Set
Now for the foodie who loves to make all of there own food or likes to make meals from scratch, then this Sous Chef Fresh Pasta Cooking Set is just what is needed. This Fresh Pasta Cooking set gives you all the tools and most of the ingredients that you need to make homemade pasta like a professional.
All you have to do is add egg and water, then when your pasta dough is ready, roll it out and use the special roller that comes with the set and you will have fresh tagliatelle, or if you want to make ravioli, you have the cutter there to make it just like the chefs do. If you want to treat the foodie in your life to something that little bit special, you have to get one of these fresh pasta making sets, they are available directly from the Sous Chef website.
Godminster Cheese Set
Christmas would not be the same if there was no cheese. For me, I have to have good quality cheese in the fridge that I can eat with pickles, chutneys and crackers. I am fussy with cheese and hate cheeses that stink out the fridge, so I normally have a good couple of different cheddar cheeses. Godminster have a fantastic Triple Cheese Gift Set which is just perfect for any foodie or anyone who likes cheese. Godminster have carefully selected only the best cheeses to go into the collection.
The Triple Cheddar Collection has three top award-winning cheese in the collection and they are Vintage Organic Cheddar, this is a round cheese, encased in a burgundy wax, the second is an Oak-Smoked Vintage Cheddar, which is wrapped in a muslin cloth and the third and final cheese is Godminster's new Black Truffle Vintage Cheddar. Now, this is cheese you want at Christmas, to get yourself or that foodie of yours some this Christmas, check out their website.
Opinel Knife and Klean Kanteen
The first item is the Opinel No.8 Edition Amour by Andrea Wan, Andrea design the box and the design on the knife handle. Andrea worked the symbolism of hands into the design, the hands describe a generous love that that grows. The knife has a lovely wooden handle which is comfortable to hold and use. The length of the blade is 8.5cm and founds beautifully into the handle to make it a great pocket knife. One of the wonderful things about this knife is that it is a limited edition and each blade is numbered, so you are getting something very unique. If you want to get one of these knives or check out some of the other range that Opinel has, visit their website.
We are all trying to use less plastic in our lives and one of the best ways to do this is with a reusable drinks bottle or canteen. Klean Kanteen have a fantastic range of products in a number of sizes. I have the 20oz TKWide as it can be used as a water bottle, coffee mug, sports bottle and insulated cup. So it has many different uses, this is truly a bottle that you can keep on using.
The bottle is fully made from stainless steel, has vacuum insulation which increases the thermal performance of the bottle. In addition to that, it has a special TK Closure internal thread design and an easy to carry swivel loop, so it will fit in your bag, car and so much more. So if you want to think of that perfect Christmas gift, then check out this and made the foodie in your life happy that they are helping the environment. It is available from here.
Great British Bake Off Calendar and Family Organiser
Who doesn't love The Great British Bake Off? Well for fans of the show, you can now have a part of it in your kitchen to give you some inspiration, while never forgetting important dates again. The GBBO have 2 calendars, the first is "A year in the life of a Star Baker" family planner calendar is perfect for busy families, firstly because it has 5 columns for each month, so this should be enough for most families to write down appointments and events. Also included with this calendar is a sheet full of useful stickers and fun, as well as a handy storage pocket to keep hold of your recipes and vouchers. If you want to get this calendar, get it in time for Christmas here.
The second calendar is the Great British Bake Off Slim Calendar – "The year of Great Bakes", perfect for every kitchen. This calendar has a line per day, so you can make a note of all your important appointment and events, which is ideal. As the calendar is called he year of Great Bakes, you will be pleased to know that each month, there is a delicious bake with pictures and the recipe, so you can make something new each and every month.
If you have a foodie who needs this in their kitchen, this is a perfect Christmas gift. If you want to get it in time for Christmas from here.

---
Thank you for reading and please remember you can always follow my blog via email to receive up to date posts and maybe find something to like. Check out my about page for information on sponsored posts!

Don't forget to follow me on Instagram, Twitter and Facebook …. If you have any queries or questions about my blog or any reviews then please contact me.