(Ad Gifted) Some of these products have been gifted for review
We all have that special woman in our lives, the one that we can always turn to, who is always there, never judging and always has open arms. Yes, I'm talking about our Mother's. This year is no different and I want to celebrate mother's from all around and give you some wonderful ideas about what you can get them for Mothering Sunday.
If you don't know already, Mother's Day is on Sunday 22nd March 2020 and yes the world us going into chaos a little. Let's try and celebrate those special women.
Every mother loves flowers and a bar of chocolate. As you rightfully know, I don't like to go with just the standard, I like to think outside the box and see what else would be great for our foodie mums. Here is a range of gift ideas that could really stand out and be that something special.
Craft Coffee Club
If you're wondering what Craft Coffee Club is, it is a monthly subscription service that sends you coffee and treats every single month. This brings a whole new style to subscription boxes. If you have a mum who is a fan of coffee, then this could be an absolutely fantastic present for mother's day.
Don't worry if your mum doesn't know the difference between Arabica and Robusta, the Craft Coffee Club will take you on a coffee journey and give your tastebuds a treat.
If you're wondering what you get each month, you'll get a mini-magazine with the details on the coffee that is included, as well as partners and tasting/brewing notes. You will also get a new coffee of the month from a destination from around the globe, no month will be the same. In addition to that, you will also get a Selection of Treats and on bonus months, there will also be an extra special gift.
Cook It Slowly Cook Book
For the person who has everything, I can near enough guarantee that they will have a slow cooker. If your mum loves to cook but does work long hours, then slow cooking is just what is needed. You can come home to a wonderfully cooked meal and all its taken is 20 minutes of preparation.
This Cook It Slowly Cook Book is from Dairy Diary, the book can be bought from Amazon at the cheap price of £8.75, it is an absolute bargain. Now the book does contain meat and meat-free dinners, it also has great recipes for puddings, cakes and bakes.
Gregory Tree – Fruit with a Twist
If you're wondering what Gregory Tree – Fruit with a Twist is, well the simple answer is what the name says, fruit twists. The ones that I think sound the best are the double fruit twists, which are only 60 calories. These can be enjoyed on the go, in lunch boxes or as a post-meal fruit snack.
One of the best bits about these fruit twists is that they have no added sugar. All the sweetness comes from the fruit itself. They are available from Amazon. These are a lovely little treat that I'm sure any mum would love.
Joe & Seph's
If you want to really give your mum a treat this mothers day, Joe & Seph's have got you. If you've not heard of these before, where have you been? They make gourmet popcorn and other treats. The other treats that they offer include Gift Boxes, Gourmet X and caramel sauces. The sauces are something special, that's for sure.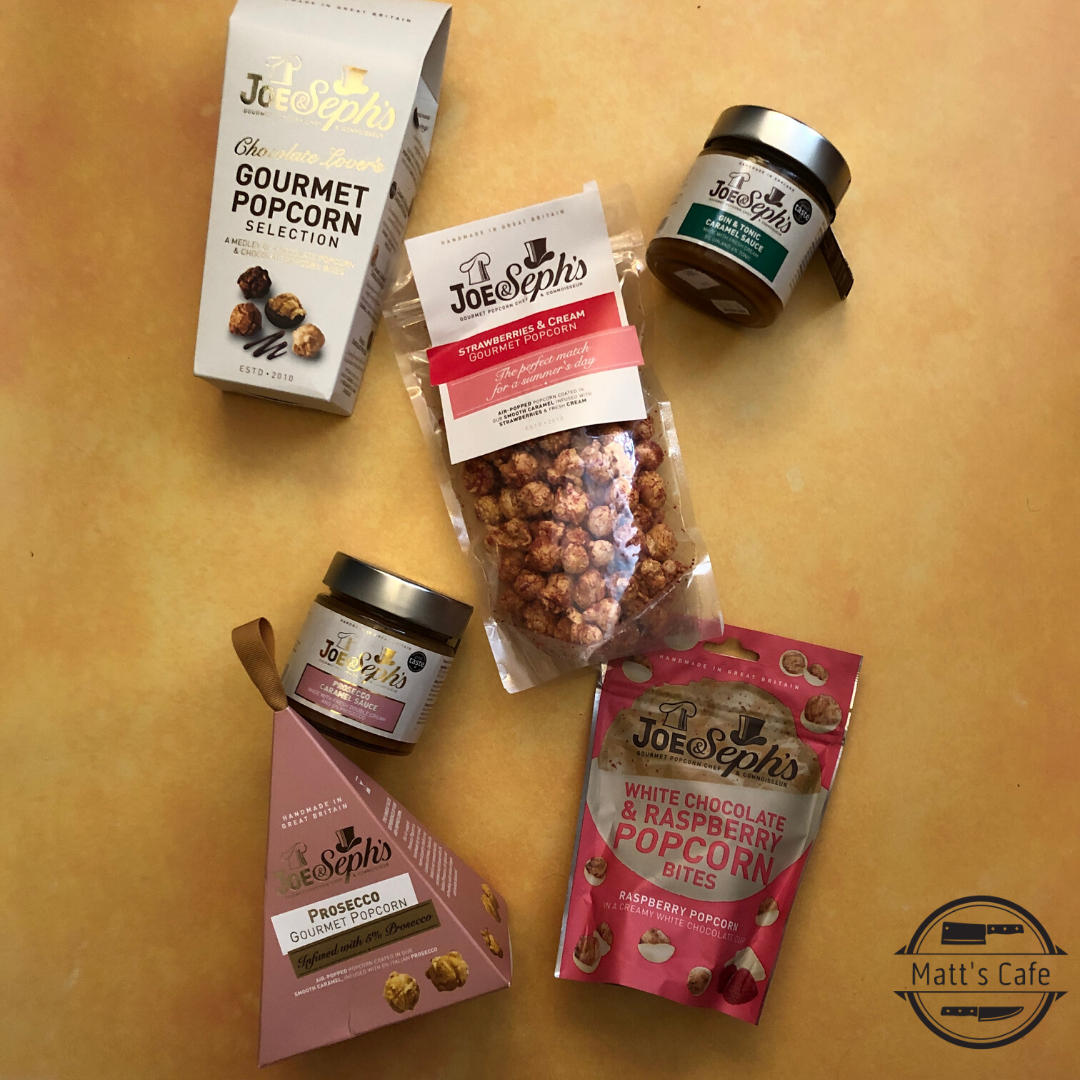 If you want to make a hamper for your mum, I would suggest the Chocolate Lovers Gourmet Popcorn, the Strawberry and Cream Gourmet Popcorn, Gin and Tonic Caramel Sauce, Prosecco Gourmet Popcorn, Prosecco Caramel Sauce and the White Chocolate and Raspberry Popcorn Bites. You can buy these directly from Joe & Seph's website or via Amazon.
Lily O'Briens Dessert Collection Chocolates
Now we need to look at really good chocolate for our mums. They deserve it. So instead of going with a boring bar of chocolate, think of something different and this is where Lily O'Briens Dessert Collection Chocolates comes in.
These Lily O'Briens Dessert Collection chocolates are available directly from their website or from Amazon. If you're wondering what is in the box, as Forest Gump said, "Life is like a box of chocolates, you never know what you're gonna get". Actually in this box, you will get 18 assorted collection of finest dessert-inspired recipes including Hazelnut Torte, Passion Fruit Posset, Banoffee Pie, Creme Brulee, Raspberry Infusion and our award-winning Key Limey Pie. What's not to like?
Thank you for reading and please remember you can always follow my blog via email to receive up to date posts and maybe find something to like. Check out my about page for information on sponsored posts!

Don't forget to follow me on Instagram, Twitter and Facebook …. If you have any queries or questions about my blog or any reviews then please contact me.