If you're looking for something traditional for dinner but with an added twist, I've found just the thing for you! This slimming world cottage pie might look regular but it's made with turkey mince and it tastes amazing.
I love making recipes and this slimming world cottage pie recipe made with turkey mince, in my opinion, is one of the best slimming world dinners that I've cooked and it's perfect for the winter months. Turkey after all is a Christmas treat right?
You can have your cottage pie recipes, don't get me wrong I love a normal slimming world cottage pie but I also love a good turkey cottage pie at the same time. It's packed with much more flavour and people will love it.
The Best Cottage Pie Recipe
If you're on the lookout for good slimming world turkey mince recipes, this turkey cottage pie is the very thing you need. I think that it holds more flavour than your average cottage pie, looks better and smells better.
I've also heard this referred to as a slimming world turkey thatch, not too sure why but I like the name. This turkey mince cottage pie is pretty easy to make, it won't take you that long and if you have people visiting they're going to love it.
When you're following the slimming world diet it's important to eat well. With this slimming world dinner, I would suggest finding the best mince with the lowest fat percentage. The turkey mince I use is normally 2% fat.
How To Make Slimming World Cottage Pie
If you're going to follow a cottage pie recipe you want to make sure you're making it right. I'll admit, when I first moved into my own place I had no idea how to cook and now I'm here writing on my food blog about turkey shepherd's pie of all things!
With this dinner, I can call it a slimming world turkey shepherd's pie as well because it's turkey mince and breaks the "rules" of cottage pie and shepherd's pie and that's one thing I love about slimming world, it's so versatile.
It's important to make sure everything is cooked before putting it into the oven. That way you can cook it for a little and then any cheese you want on top. Don't forget that syn free cheese doesn't exist as far as I'm aware so you'll need to count the cheese.
I know a lot of people like their slimming world thatch pies although I like to pattern mine as you can see in the picture below. It gives it a nice crispy finish with the cheese filling in the gaps and looks a lot better when it's done!
How Many Syns In Cottage Pie?
This slimming world's cottage pie is syn free. I mean it's full of so much flavour and goodness, it's crazy that it is a syn free cottage pie.
This Slimming world cottage pie is syn free per portion if you don't use cheese or if you are using the cheese as your health extra A. Otherwise it is 1.5 syns per portion, not that much when you think about it and the dinner goes really well with these Slimming World ActiFry Chips Recipe. This recipe feeds four people although if you're like me you'll save some for lunch the next day and have something to eat!
Now with this recipe, you can use either light cheese or Red Leicester cheese to give it more of a visual impact. I use the normal one unless I'm cooking for guests. You can see how they both look below and make your own choice though!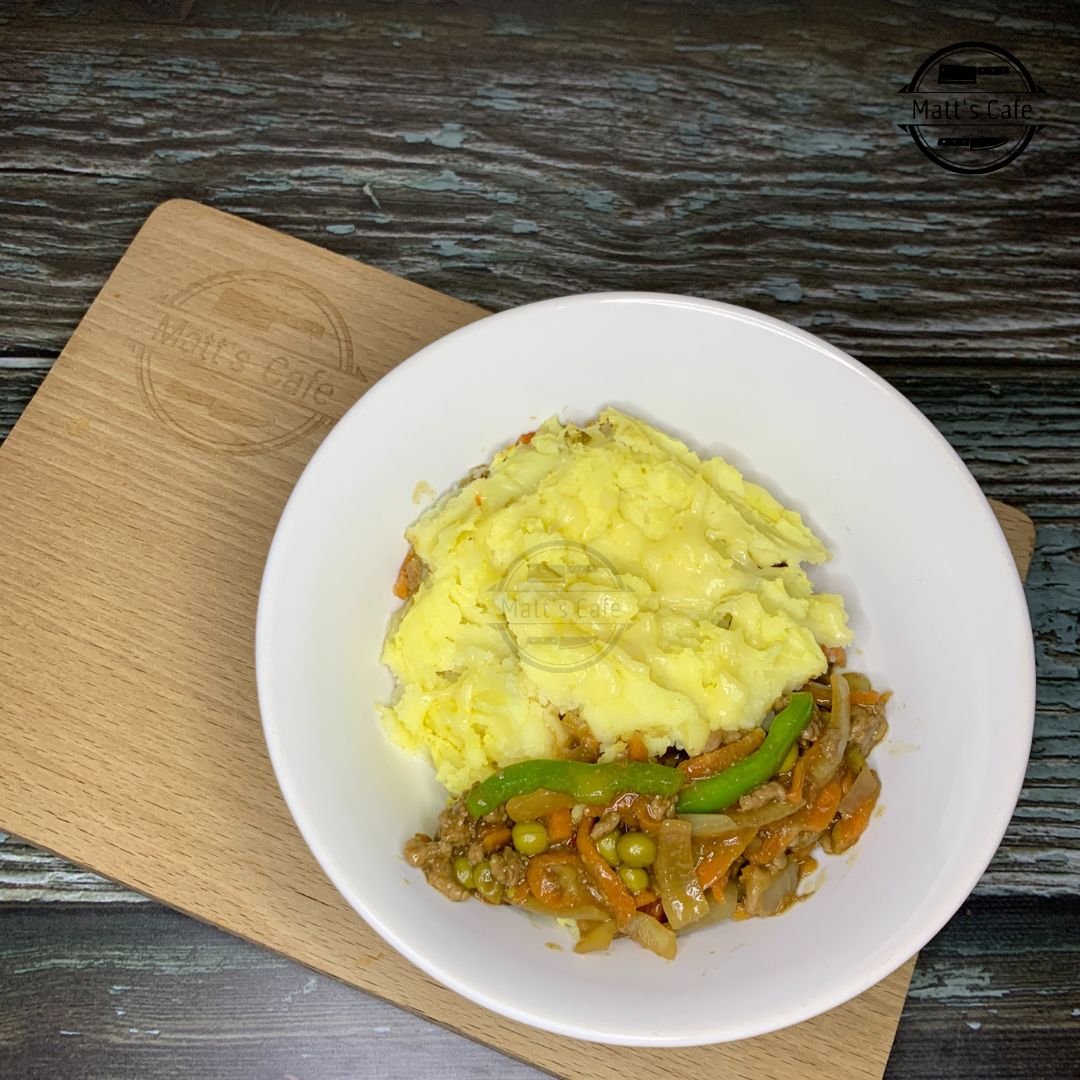 Slimming World Turkey Cottage Pie Recipe
Let me know what you like to add with your cottage pie, I like to make sure it's well seasoned but I've not made it spicy. If you want something traditional and with a spicy kick I would suggest taking a look at this Syn Free Spicy Chicken Lasagne, it's amazing.
If you liked this cottage pie recipe let me know in the comments, I'm always up for trying new things as well so if you have any slimming world's dinners that you want me to try just let me know!
Slimming World Turkey Cottage Pie Recipe
Delicious Turkey Shepard's Pie
Ingredients
500

g

Turkey Mince (Extra Lean)

120

g

Carrots

Diced

1

Medium

Onion

Diced

75

g

Peas (Frozen)

1

Pepper (Orange)

Use any colour

1

Chicken Stock Cube

1

tbsp

Worcestershire Sauce

Salt and Pepper
Optional Extra
30

g

Grated Light Cheese

Healthy Extra A or 6 syns
Instructions
Put a pan of water on to boil.

Peel and chop the potatoes, add to the pan of water.

Dice the onion and add to a deep frying pan / skillet.

Add the mince and break up the mince, keep stirring until it starts browning.

Once the mince is half cooked, add salt and pepper, Worcestershire Sauce and sprinkle the stock cube and cook the mince until it is all cooked.

Preheat oven to 180°C, 400°F, Gas Mark 6

While the mince is cooking, dice the carrot and chop up the pepper.

Add a little water to the mince mixture, now add the carrots and cook until the carrots are cooked through.

Add the peas and cook until they are no longer frozen.

Once the mixture is all cooked, add the pepper, then transfer the mixture into a Pyrex/Casserole dish.

Once the potatoes are soft and fall off a knife, drain the water away, mash the potatoes until you have a smooth mash.

Add the mash to the top of the shepard's Pie and spread so that it is covering the mince.

Cook in the oven until the potatoes start to go crispy.
Extras
If you want to be a little naughty, you can add some cheese on top of the potato and cook until the cheese melts. You can use the cheese as your Healthy Extra A or add 6 syns to the meal.
Notes
*Prices correct as of April 2021
*This is Syn Free or 1.5 Syns per serving – Depending upon if and how you use the cheese.
| | | | |
| --- | --- | --- | --- |
| INGREDIENTS | WEIGHT | CALORIES | PRICE |
| Turkey Mince (Extra Lean) | 500 g | 705 kcal | £3.55 |
| Potatoes | 500 g | 510 kcal | £0.24 |
| Carrots | 120 g | 40 kcal | £0.02 |
| Onion | 1 medium | 40 kcal | £0.06 |
| Peas (Frozen) | 75 g | 60 kcal | £0.05 |
| Pepper (Orange) | 1 | 32 kcal | £0.22 |
| Stock Cube | 1 | 8 kcal | £0.03 |
| Worcestershire Sauce | 1 tbsp | 13 kcal | £0.09 |
| Salt and Pepper | – | – | £0.01 |
|   |   |   |   |
| TOTAL |   | 1408 kcal | £4.27 |
|   |   |   |   |
| PER SERVING |   | 352 kcal | £1.07 |