Banana bread is something I love to bake when I'm at home, there's nothing better than a nice bit of banana bread.
That's why I decided to make this amazing slimming world banana bread, well slimming world chocolate chip banana bread actually which is great on the slimming world diet!
Slimming World Banana Bread
If you're like me and you love banana bread and you're also on the slimming world plan, you'll love this recipe.
I've been craving banana bread for so long as was super excited to get this recipe sorted.
We love banana recipes in this household so I was super happy when this banana bread went down a treat.
I hear some people call it a slimming world banana cake but it's a nice traditional banana bread in my eyes.
Slimming World Chocolate Chip Banana Bread
So I thought a slimming world banana bread recipe sounded great but why not make it perfect and have a little treat at the same time.
I decided to make a slimming world chocolate chip banana bread instead and have to say it's amazing.
It's the perfect slimming world recipe to use your syns on and perfect for something to induldge on after dinner!
Slimming World Banana Bread Recipe
This is a really easy and simple to follow banana bread recipe. I wanted something that everyone could do, something that wasn't hard to put togther and a recipe that you could acomplish if you don't have a lot of time on your hands and this slimming world banana bread recipe is the one you need.
If you've been looking around for yummy slimming world recipes you don't really need to look any further, although totally check out the slimming world desserts I have on the blog and find something else equally as yummy to enjoy!
How Many Syns in Slimming World Banana Bread?
You might be thinking, how many syns in chocolate chip banana bread right?
So was I, I can happily say that per slice this banana bread is only 2 syns per slice, each banana bread that you make with this recipe slices into 12 slices as well which means you've got enough for the whole family or if you have 24 syns left you can eat the whole banana bread loaf, although here at Mattscafe we don't recommend it, a little treat is always nice.
Banana Bread Recipe Cost
Banana bread loaf is a cheap recipe, it doesn't use too many ingredients at all. It is one of those recipes where you can use up the banana's that are just starting to turn.
Personally, I only eat banana's when they have just turned yellow.
Once they start getting any black bits, I use to throw them away, not anymore. I now make this amazing banana bread recipe.
Banana bread has been around for years and years, it is thought to have started in the 1930's when housewives didn't want to waste anything, they came up with a way to use overripe bananas.
They created a cake recipe made with these overripe bananas and that is where banana bread comes from.
I have to say, I do love making the banana bread and it is a favourite in my family.
Recipe Cost Breakdown
*Prices correct as of May 2020
| | | | |
| --- | --- | --- | --- |
| INGREDIENTS | WEIGHT | CALORIES | PRICE |
| Flour (Self Raising) | 56 g | 199 kcal | £0.02 |
| Banana | 200 g | 178 kcal | £0.16 |
| Egg | 4 medium | 524 kcal | £0.40 |
| Vanilla (extract) | 1 tsp | 12 kcal | £0.22 |
| Baking Powder | 1 tsp | 2 kcal | £0.02 |
| Standard Sweetener | 2 tbsp | 4 kcal | £0.02 |
| Chocolate Chips | 25 g | 132 kcal | £0.28 |
| | | | |
| TOTAL | | 1051 kcal | £1.12 |
| | | | |
| PER SERVING | | 88 kcal | £0.09 |
Chocolate Chip Banana Bread
Trying to eat healthier is hard work, if you restrict yourself too much, you will have cravings for it and sometimes fall off the wagon.
What I say is moderation. you can have that chocolate bar, that slice of cake, you just can't do it every day.
If sweet things are your downfall, this is where this banana bread recipe comes in to plan.
The whole recipe is low in calories, you can have a piece a day, as long as you don't over your limit, then you will be absolutely fine. It will keep your sugar cravings at bay, that's for sure.
If you're looking for other sweet treats, you should check some recipes out here.
If there is a particular recipe that you're looking for but can't see, drop me a message and either I will point you in the right direction of the recipe or I will make a healthy version of it and provide you with the link.
This is a recipe that is simple to make, the family will enjoy it.
If you don't want to use chocolate chips, then don't add them, but you will need to adjust the syn value, let me know your thoughts and if you have changed the recipe, what did you do and how it turn out?
Slimming World Banana Bread Recipe
Slimming World Chocolate Chip Banana Bread Recipe
2 syns per slice
Ingredients
56

g

Self Raising flour

9 syns

4

Eggs

1

tsp

Vanilla Extract or Essence

1

tsp

Baking Powder

0.5 syns

200

g

Bananas mashed

8 syns

2

tbsp

Sweetener

25

g

Milk or Dark Chocolate Chips

6 syns

Frylight
Instructions
In a large bowl, put the peeled banana and mash it up.

Put the self raising flour and baking powder in one bowl

Once the banana is mashed, add vanilla essence and sweetener and combined together.

Separate 2 eggs and add the yolks to the wet mixture along with two whole eggs.

Mix the wet ingredients together well

Add the self raising flour and baking powder to the wet mixture and combined until it looks like cake batter

Whisk the 2 egg whites until they are very stiff and then gently fold into the banana bread mixture

Get a 2lb loaf tin, spray with FryLight, and line with baking parchment.

Add a small amount of the chocolate chips to the bottom of the loaf tin, then cover with the banana bread mixture. Sprinkle the remaining chocolate chips on top of the mixture.

Cook in a preheated oven at 180°C / 360°C for around 40 minutes or until the banana bread is cooked and golden on top.

Once cooked, remove from the tin, slice and serve either warm or it can be served cold.
---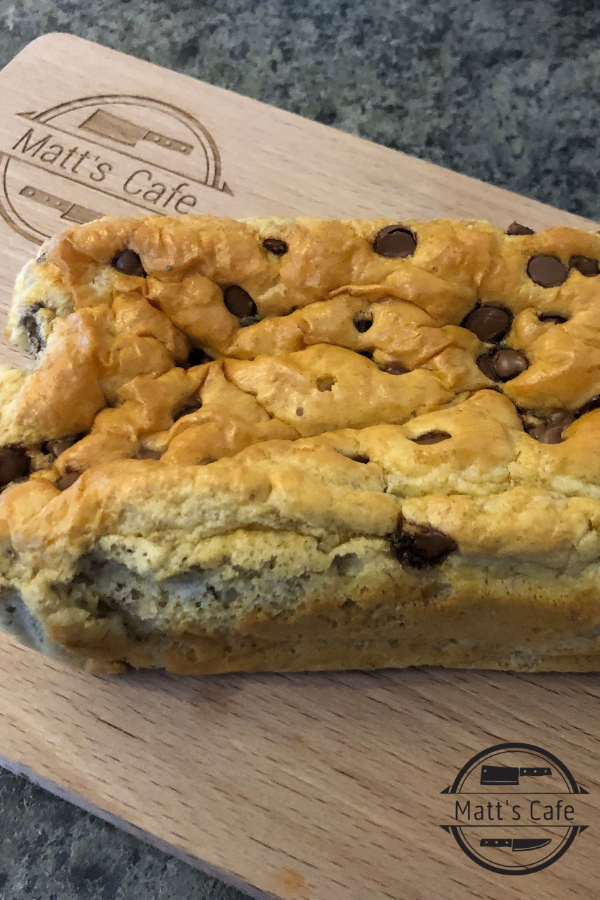 Thank you for reading and please remember you can always follow my blog via email to receive up to date posts and maybe find something to like. Check out my about page for information on sponsored posts!

Don't forget to follow me on Instagram, Twitter and Facebook …. If you have any queries or questions about my blog or any reviews then please contact me.