There's nothing worse than not being able to eat whatever you want or treat yourself when you're trying to lose weight. That's the one thing I love about the slimming world diet, you can still enjoy food and make your own slimming world desserts. These slimming world chocolate chip banana muffins are one of the many yummy foods I love to enjoy.
This slimming world cake recipe is very much like a slimming world banana bread recipe however in muffin form. If you're looking for a slimming world banana bread recipe I've made them loads of times and really can't get enough, even if I want to call it a slimming world banana cake recipe!
Slimming World Chocolate Chip Banana Muffins
I love adding chocolate chips into my recipes, I know it's not the best thing to do when you're on a diet but it makes food so much tastier. If you're making slimming world cakes it's always nice to switch it up from time to time!
These slimming world banana muffins can be made without the chocolate chips if you want however they cut through the banana taste and give them a nice bit of texture at the same time.
It's also really nice to make some slimming world muffins that aren't the slimming world breakfast muffins that everyone makes. Just because you're on slimming world doesn't mean you can't have muffins!
Slimming World Banana Muffins Syns
Now let's face it, this chocolate chip banana muffin recipe isn't going to be syn free and if it was, it would make the slimming world journey a lot easier!
This slimming world banana cake recipe is amazing, I shared them with my family and they couldn't get enough! The recipe will make 12 and I will say don't bake them days in advance, bake them the same day so you don't eat them all!
One of these amazing banana muffins will set you back 3 syns each! Which in my opinion isn't that bad because they're so tasty.
So I'm afraid these aren't slimming world banana muffins syn free version, I like to pack mine full of yummy goodness so the slimming world journey isn't too difficult, I can promise you'll love it though!
If you wanted to make these banana muffins contain fewer syns, you can leave the chocolate chips out of the recipe, however, I wouldn't recommend it based on personal taste.
Posh Banana Muffins Recipe
One of the things I love to do with my slimming world chocolate banana muffins is to make them posh and fancy. The first thing I like to do is use fancy cupcake cases, they're not cheap but they look amazing like they are from a fancy bakery.
I also make sure I sprinkle white chocolate chips on the top of the slimming world chocolate muffins as they look so much better once they're baked.
Although some people don't really care, I feel that presentation plays a big role when baking and if something looks great, people want to eat it and will enjoy it more. After all, we eat with our eyes!
You can also use silicone muffin cases if you want to impact the environment and go green, although you need to make sure you get them back and people don't throw them away!
Slimming World Muffins Recipe
This slimming world banana muffins recipe is just the thing to get you through to dinner, trust me! You can take a look at my low syn slimming world snacks, but if you're looking to bake something, this is it!
It doesn't matter if you're on the prowl for some slimming world cakes and buns or if you're just looking for the best slimming world cake recipes. This banana muffins recipe is super easy!
If you want more delicious chocolate banana muffins, double the recipe and share them with all your friends! You can also take them to work and be the favourite colleague!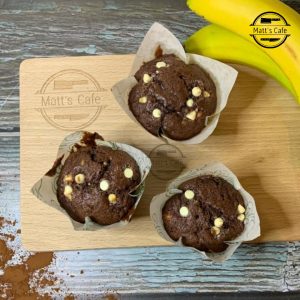 Slimming World Chocolate Chip Banana Muffins
Equipment
Muffin Tray

Muffin Cases

Mixing Bowls

Silicone Spatula
Ingredients
100

g

Self Raising Flour

16 Syns

200

g

Banana (mashed)

8 Syns

25

g

Cocoa Powder

5 Syns

1

tsp

Vanilla Extract

1

tsp

Baking Powder

0.5 Syns

2

tbsp

Sweetner

25

g

White Chocolate Chips

6 Syns

4

Eggs
Instructions
Preheat oven to 180°C, 400°F, Gas Mark 6

In a large bowl, peel the banana, break into pieces and then mash it.

Put the self raising flour, cocoa powder and baking powder in one bowl.

Add the sweetener, vanilla and eggs to the mashed bananas and mix until the eggs are fully combined.

Add the banana mixture into the flour and mix until you have a smooth cake batter.

Portion into 12 muffin cases and bake in the oven for 15 – 20 minutes, or until a skewer comes out clean when inserted into the middle of the muffin.
Notes
*Prices correct as of March 2021
*This is 3 Syns per Muffin
| | | | |
| --- | --- | --- | --- |
| INGREDIENTS | WEIGHT | CALORIES | PRICE |
| Self Raising Flour | 100g | 354 kcal | £0.03 |
| Banana | 4 | 420 kcal | £0.80 |
| Cocoa Powder | 25g | 84 kcal | £0.12 |
| Vanilla Essence | 1 tsp | 12 kcal | 0.09 |
| Baking Powder | 1 tsp | 2 kcal | £0.02 |
| Sweetener | 2 tbsp | 10 kcal | £0.05 |
| White Chocolate Chips | 25g | 135 kcal | £0.11 |
| Egg | 4 | 288 kcal | £0.60 |
|   |   |   |   |
| TOTAL |   | 1305 kcal | £1.82 |
|   |   |   |   |
| PER SERVING |   | 109 kcal | £0.15 |
If you loved this slimming world cake recipe as much as I did, don't forget to add it to Pinterest! Let me know in the comments what you thought about them, I'm eager to find out!