In our home spaghetti carbonara has always been a staple meal, it's cooked at least twice a month and is always finding it's way onto the meal plan! Slimming world carbonara doesn't have to be boring, I've heard people moan about it but trust me, my version is delicious!
Instead of just making your standard slimming world carbonara, which I even found a little bland. I make a special slimming world chicken spaghetti carbonara recipe and it's to die for!
One thing I found with a good spaghetti carbonara recipe is that they all come with a nice cream sauce, however slimming world doesn't really allow this! This is why I created my own in house version that tastes just as good!
The other half likes to call this a car banana recipe, so if you have children that might be a good way to get them to eat it, there's nothing wrong with calling a healthy carbonara recipe something fun after all.
Why Italian food is so good for you?
Italian food is such a wonderful thing, usually packed full of goodness and so tasty, oh and even more important, Italian food must be good because they live longer than most places in the world. This is why I had to make my own twist on the traditional spaghetti carbonara recipe!
Italian food isn't processed, it's all fresh and packed full of goodness that the body just loves. So take that into account, mix it with a slimming world carbonara recipe and you've got some awsome weight loss food right there!
I love Italian food because it's packed full of flavour, Italy is on my travel list as well due to its rich background in food! That's why my slimming world carbonara recipe is packed full of flavour to do the Italian food justice.
How Many Syns In Slimming World Chicken Spaghetti Carbonara?
Like most carbonara recipes, this one is packed full of flavour and with the chicken added in, the flavour is even more! Thanks to Slimming world having healthy extras (HEA), this recipe can be totally syn free, who doesn't want a syn free slimming world carbonara recipe?
However if you don't use your healthy extra with this spaghetti carbonara slimming world says it's a small 3 syns per serving and in my opinion, that's nothing at all!
Now don't get me wrong, I love a nice treat every now and then and it's normally on these yummy slimming world lemon muffins recipe. That being said 3 syns for a chicken carbonara recipe is nothing and it tastes so good you'd be mad not to try it!
Chicken Spaghetti Carbonara Recipe Cost
If you're looking at cooking a cheap meal or budget meal, you can see some of the costs that I have worked out based upon the supermarket where I bought these items, Aldi. The recipe cost breakdown for this chicken carbonara is in the recipe card towards the bottom.
If you're on the lookout for cheap dinner ideas, this is one that needs adding to your list. Costing under £5 you'd be foolish to pass it up. What's more, is if there's any leftover you can have it for lunch the next day.
When you're shopping you will have leftovers of the full packet or container of the products, so make sure you freeze or use them up. Then you can get more budget recipes out of it.
After making this chicken carbonara, you can use the rest of the chicken for a cheap meal for 4 and they could be Slimming World Lemon Chicken Rice Traybake or even Slimming World Diet Coke Chicken, both of these are great cheap easy meals to make.
Recipe Cost Breakdown
*Prices correct as of July 2019
| | | | |
| --- | --- | --- | --- |
| INGREDIENTS | WEIGHT | CALORIES | PRICE |
| Dried Spaghetti | 120g | 190 kcal | £0.09 |
| Diced Chicken | 350g | 385 kcal | £2.63 |
| Rashers Bacon | 150g | 205 kcal | £0.99 |
| Onion | 150g | 60 kcal | £0.05 |
| Low Fat Grated Cheese | 30g | 94 kcal | £0.26 |
| Philadelphia Lightest | 30g | 103 kcal | £0.57 |
| Mustard | 4g | 16 kcal | £0.13 |
| Egg | 1 medium | 131 kcal | £0.10 |
| Hot Water | 200ml | 0 kcal | £0.00 |
| Chicken Stock Cube | 1 | 10 kcal | £0.12 |
| Salt & Black Pepper | – | – | £0.01 |
| Frylight | – | 5 kcal | £0.02 |
| | | | |
| TOTAL | – | 1199 kcal | £4.97 |
| | | | |
| PER SERVING | – | 300 kcal | £1.23 |
Slimming World Pasta Bake – Spaghetti Carbonara Pasta Bake
If you don't like spaghetti or have fussy eaters at home who would prefer "normal pasta" that's totally fine. You can turn this chicken carbonara recipe into a chicken carbonara slimming world pasta bake recipe easily.
You can keep all the ingredients the same, all you have to do is switch up the spaghetti for pasta, any type you want.
I would mix the cooked pasta into the mixture at the end and top with the grated cheese, put under the grill for 5 – 8 minutes or until the cheese has melted, then you will have a delicious slimming world chicken pasta bake.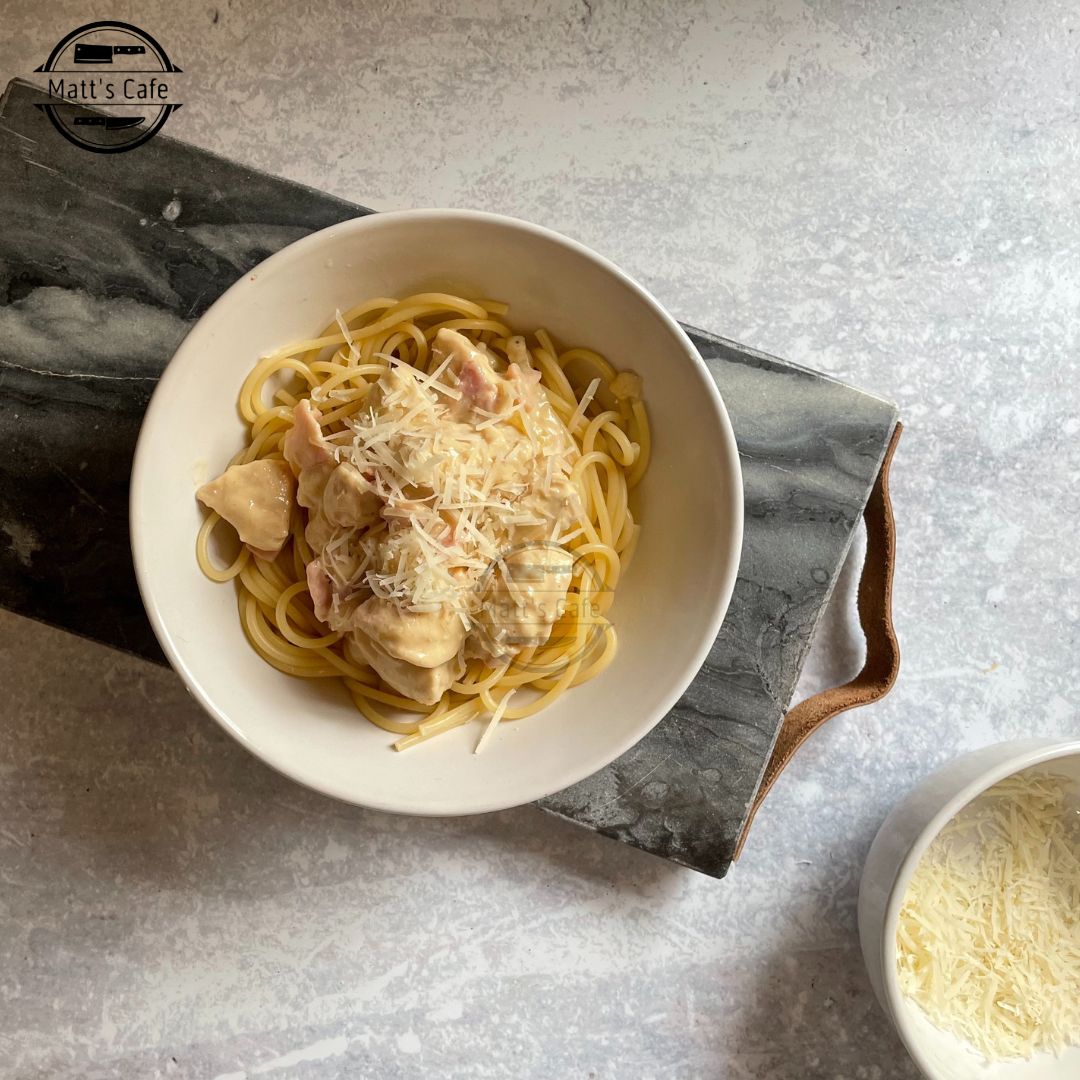 You can also check out some of my other slimming world pasta dishes including Roasted Vegetable Pasta Bake, Baked Meatballs and Pasta, Fanta Chicken and Pasta or even the slimming world favourite slimming world diet cola chicken.
Cooking for the family doesn't have to be hard and it certainly doesn't have to be expensive. If you want to make some cheap and easy meals for the family, you have to plan out and make sure you have everything you need.
Equipment I Used To Make Slimming World Spaghetti Carbonara
When it comes to making the best chicken carbonara recipe I use a few bits of equipment to help speed up the process. The slimming world carbonara recipe is easy to make but easier with the help of good equipment.
Take a look at these affiliate links below and make sure you have everything you need to make the best spaghetti carbonara recipe for your family!
Recipe For Spaghetti Carbonara
Slimming World Chicken Spaghetti Carbonara Recipe (Syn Free)
If you are partial to a good Italian, then you will love this Slimming World Syn Free Chicken Spaghetti Carbonara.
Ingredients
120

g

Dried Spaghetti

350

g

Diced Chicken

Cut into small pieces for even cooking

5

Rasers

bacon

Fat removed and diced

1/2

Onion

dice

30

g

Low Fat Grated Cheese

Used as HEA

2

tbsp

Philadelphia Lightest

1/4

tsp

Mustard Powder

Optional

1

Medium

Egg

200

ml

Hot Water

1

Chicken Stock Cube

Salt & Black Pepper

Frylight
Instructions
Boil the kettle for the vegetable stock, while that is boiling chop the onion into a small dice, remove fat from the bacon and cut into small pieces and also dice the chicken.

Cook the spaghetti as per instructions on the pack.

Heat a large frying pan, add a few sprays of frylight. Fry the onions, chicken and bacon and cook until slightly brown.

Measure out 300ml of hot water, add the chicken stock cube and stir until combined. Once combined, add the stock to the chicken, bacon and onions mix. And leave to reduce by half.

While the stock is reducing, in a bowl whisk the eggs, black pepper, Philadelphia and mustard (optional) and set aside.

Drain the cooked pasta and potion out into two bowls.

Remove the chicken pan from the heat, slowly add the egg mixture and stir well. N.B Do not do this on the heat otherwise you'll end up with scrambled egg!!

Add the chicken mixture on top of the pasta and enjoy.
Conclusion
As you can see from my Slimming World Carbonara recipe, I have made a couple of tweaks to make it right for me, these little edits have made the dish really stand out for me. A traditional carbonara doesn't have chicken, so that can be taken out, you can also add in mushrooms as these would work in a traditional carbonara.
Let me know how you get one and what you think of the recipe, this is one of my best budget family meals, it is now a firm favourite in my house. If you want to try something else, check out my Slimming World Beef Stroganoff recipe here.
If you liked this chicken slimming world carbonara recipe don't forget to add it to your Pinterest so that Maggie from group can see it!