We probably have cottage pie at least 3 or 4 times a month and that's mainly because it tastes so amazing. This slimming world cottage pie recipe is super easy to make and that's another reason we make it so much. It's family friendly and I don't know anyone that doesn't love cottage pie!
The thing I love about making a cottage pie is the cheese, of course, if you're making a slimming world cottage pie you need to make sure that you syn the cheese but I do love using different types of cheese to give the dish so much more flavour.
I normally use red Leicester cheese on my cottage pies, it gives it a nice rich flavour and makes it look amazing. I mean who doesn't love an amazing tasting and great looking cottage pie?
Healthy Cottage Pie Slimming World Recipe
If you're looking for a really healthy cottage pie recipe I would suggest changing up the mash a little bit. I know a lot of people are looking for a slimming world cottage pie with root veg topping but I will say this recipe uses mash potato. I will be working on a cottage pie in the future with veg mash topping.
You can however change the normal potatoes and make it a slimming world cottage pie with sweet potato topping, that's always nice. I know a lot of people make a cottage pie with carrot and swede mash, which is equally as yummy. I have found that using vegetables like that for a mash though can make it a little wet so keep an eye on that.
I do make sure that I put enough vegetables in the cottage pie filling however and always use low-fat mince. I use 2% fat mince most of the time, it gives it a much better flavour and it's healthier for you and who doesn't want a healthy cottage pie recipe to make?
How Many Syns In Slimming World Cottage Pie?
If you are following the slimming world journey you don't want to be eating a cottage pie that's full of syns, there's no logic and it wouldn't help you lose weight at all. This is a perfect, low syn cottage pie that will make everyone happy and means you can still enjoy something naughty at the end of the day!
With this low syn cottage pie, you're only having to fork out 2 syns per portion, it's totally worth every bite. If you fancy something a little naughty afterwards, I'd suggest trying these very yummy slimming world diet coke cake!
How Much Is A Slimming World Cottage Pie?
This year I'm all about saving money on food. If you're looking to make some cheap meals this cheap recipe is the one you need. A single portion of this cottage pie recipe will only cost you £2344 and to top it off the whole meal cost £5,456 which in my eyes is amazing.
A budget meal doesn't mean it has to taste bad! Budget meals get a bad rep and in this day and age, that shouldn't be the case. People struggle for money and there's nothing wrong with having to meal plan some cheap healthy meals!
I will say as well that this cottage pie can be frozen, you can take it out whenever you want and cook it for dinner. It's easy to make and freeze and means you can have a cottage pie ready meal when you need it. So if you're looking for cheap and easy meals, you've found the best cheap slimming world dinner possible.
Slimming World Cottage Pie Recipe
If you're looking for truly the best slimming world cottage pie, you've totally come to the right place. Make sure you syn that cheese but don't feel you have to only use a little. If you have the syns, add more because who doesn't love cheese?
One thing I will say, make sure you have a decent glass cottage pie dish. I have had this one for years now and it's still going strong. It's the perfect size for us and a great investment for sure. If you have friends or family around, this slimming world's cottage pie is the thing I'd suggest making!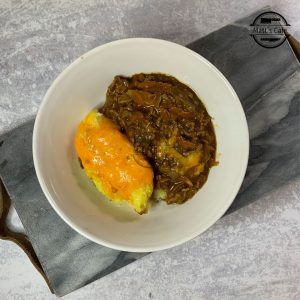 Slimming World Cottage Pie
Equipment
Ovenproof Casserole Dish

Deep Frying Pan/Skillet

Potato Ricer
Ingredients
500

g

Beef Mince (Extra Lean)

500

g

Potatoes

50

g

Cheese

2

Carrots

Grated

1

Large

Onion

Diced

50

g

Frozen Peas

3

tbsp

Tomato Puree

1

tbsp

Worcestershire Sauce

1

Beef Stock Cube

1

Clove

Garlic

1

tbsp

Low Fat Spread

Salt and Black Pepper

Frylight
Instructions
Peel and chop the potatoes, add to a pan of water and cook until potatoes are soft.

Peel and grate the carrot, set aside for later.

Peel and dice the onion, add it to a large frying pan with a little FryLight. Cook until the onion starts to go translucent.

Slice the pepper and removed the seeds, save for later.

Add the garlic and the beef mince and cook until the mince is browned.

Crumble over the beef stock cube and mix in until it has dissolved.

Add the tomato puree and Worcestershire sauce, mix until combined.

Add the peas, peppers, grated carrot and a little water to make a gravy and turn the heat to low to simmer.

Pre-heat the oven to 200°C / 392°F / Gas Mark 6.

Now that the potatoes are cooked, drain them from the water.

Mash the potatoes or use a potato ricer to get a smooth mash.

Add the low fat spread to the mash and mix until it is combined.

Put the beef mixture into an ovenproof dish, leaving some room at the top.

Add the mashed potato over the mince mixture, put it in the oven for 15 minutes.

Remove from the oven, add the cheese and put back into the oven for 5 minutes.
Notes
*Prices correct as of April 2021
*This is 1 Syns per serving. 
| | | | |
| --- | --- | --- | --- |
| INGREDIENTS | WEIGHT | CALORIES | PRICE |
| Beef Mince (5% Fat) | 500 g | 750 kcal | £2.59 |
| Potatoes | 500 g | 510 kcal | £0.24 |
| Carrots | 120 g | 80 kcal | £0.03 |
| Cheese (Low Fat) | 50 g | 176 kcal | £0.35 |
| Onion | 1 medium | 40 kcal | £0.06 |
| Peas (Frozen) | 50 g | 40 kcal | £0.04 |
| Pepper (Red/Orange/Green) | 1 | 32 kcal | £0.27 |
| Tomato Puree | 3 tbsp | 10 kcal | £0.04 |
| Worcestershire Sauce | 1 tbsp | 13 kcal | £0.09 |
| Stock Cube | 1 | 8 kcal | £0.03 |
| Garlic | 1 Clove | 0 kcal | £0.02 |
| Low Fat Spread | 20 g | 77 kcal | £0.03 |
|   |   |   |   |
| TOTAL |   | 1736 kcal | £3.79 |
|   |   |   |   |
| PER SERVING |   | 434 kcal | £0.95 |
If you loved this yummy slimming world cottage pie don't forget to add it to your Pinterest. If you know someone else looking for cheap and easy meals to make, send this recipe to them and help out a friend in need. I'd love to know what you thought about this easy cottage pie recipe so don't forget to let me know in the comments what you thought!